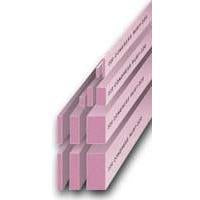 Ruby Polishing Stone (Half Round)
SHARP ALUMINUM OXIDE- Sharp grains in a medium bond result in an aggressive cutting stone. Very good results and finish on all hard tool steels and exotic metals. Maintains shape, load resistant.

This is the HALF ROUND grit polishing stone.
GRITS: 60, 80, 100, 120, 150, 220, 320
Color: Pink
Please request a quote for discounted pricing on 5 dozen grits and above.